Click the link here to see many YouTube videos about Genuine Swiss Army knives. If you have a question about identity of or other related Swiss Army knife features, etc, please feel free to contact me and I will try and help. There are currently 2 genuine Swiss companies that manufacturer Swiss Army Knives or SAK's for short.

Update edit note

; Since 2005 Victorinox acquired Wenger and it has continued in separate operation but changes were made early this year(2013). Click HERE for the Wenger History web page to read their new mission statment.

Victorinox based in Ibach near the German side of the country.
Wenger based in Delemont near the French side of the country.
I will not go into the history of each company since the home web pages for each does a really good job of it already. Both build excellent quality knives with a lifetime warranty. The shields and tang stamps will generally provide enough evidence of a genuine Swiss made product. There are plenty of cheap china made copies that look really close but the quality will never match genuine Swiss quality. Look for the following tang stamps to help identify your knife.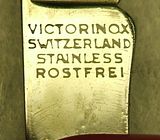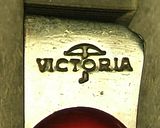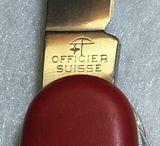 Typical pre-2005 Victorinox 4 line tang stamp on the front side of most Victorinox SAK's. Post-2005 tang stamps are shortened by removing the line Rostfrei and changing the Switzerland to Swiss Made. Victoria with the Crossbow symbol is on the rear of some older Victorinox SAK's from around the mid 1970's and earlier. The Officier Suisse with Crossbow and Swiss Cross symbols is a common rear tang stamp on many Victorinox SAK's.

Officier Suisse does not indicate a model name

but rather that the blade is installed onto a non-military issue knife. When Victorinox first created the original Swiss Army Knife it was for a military contract. Later they created a model called an "Officier" model with some 6 tools in a small compact design based upon 2 springs. This model was offered for sale to officers and then to civilians.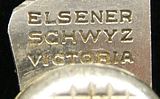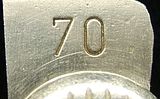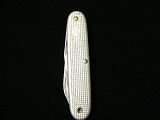 This is a Victorinox military contract Swiss Army Knife with the older Elsener Schwyz Victoria tang stamp on the front. The rear tang stamp is a 2 digit date code required by the military contract and this one indicates 1970 as the manufacturer and issue year. Some non-military issue knives might have a 2 digit date code that still indicates the blade was made in that year.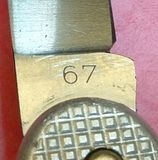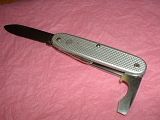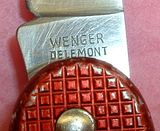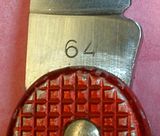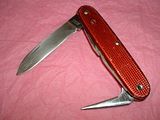 Here are a couple of examples of a Wenger military contract Swiss Army Knife, one with a 1967 date code and one with a 1964 date code. The red alox models are somewhat more rare and desirable to collectors but were only made for a few years before they changed to silver.

Now for some tool changes. Here are some photos of vintage Swiss Army knife tools and blades with notations showing the part that has changed. Click on the thumbnail images to view the much larger photos.